Focusing on the Global Market from Cambodia, Where the Average Economic Growth Rate is 7% Per Year! Comprehensive Architectural and Consulting Firm SHO SEKKEI Opens a Branch Office in Phnom Penh!
—Aiming to Expand Operations and Utilize Human Resources in Asia—
To all members of the press
September 6, 2023
SHO-SEKKEI Co.
SHO-SEKKEI Co.,Ltd (Head Office: Shibuya-ku, Tokyo; CEO: Yoshihiko Kifune, hereinafter SHO-SEKKEI), a first-class architectural firm and comprehensive consulting company with a philosophy of "continuously creating enjoyment together," is pleased to announce that it will be opening a new branch office in Phnom Penh, Cambodia, on October 1, 2023, with the aim of expanding its operations and utilizing human resources in the Asian region. In advance of the opening, a briefing session and reception will be held in Phnom Penh on September 29, 2023.

The main purposes of opening the Phnom Penh Branch Office are:
To continue to innovate as a global company by expanding into the Asian region, based on our extensive achievements over almost 40 years as a comprehensive architectural consulting firm.
To become a hub that focuses on facilitating exchanges between people and gathering information generated from connections with society through culture, by basing our operations at Hiroshima House (Phnom Penh)*1, which was established as a symbol of peace and friendship between Japan and Cambodia.
In recent years, the social situation in Japan has been changing rapidly under the impact of wars and the spread of viral infections as well as the sluggish domestic economy caused by inflation and the weak yen. In these challenging times, at SHO-SEKKEI, we recognize the importance of reevaluating our survival strategy and shifting our focus to the global market rather than concentrating solely on the Japanese market. As a first step, we have decided to enter the Cambodian market to establish a foothold in ASEAN and Southeast Asia.
Figure 1. Cambodia GDP Growth Rate (Red) and Total GDP (Blue)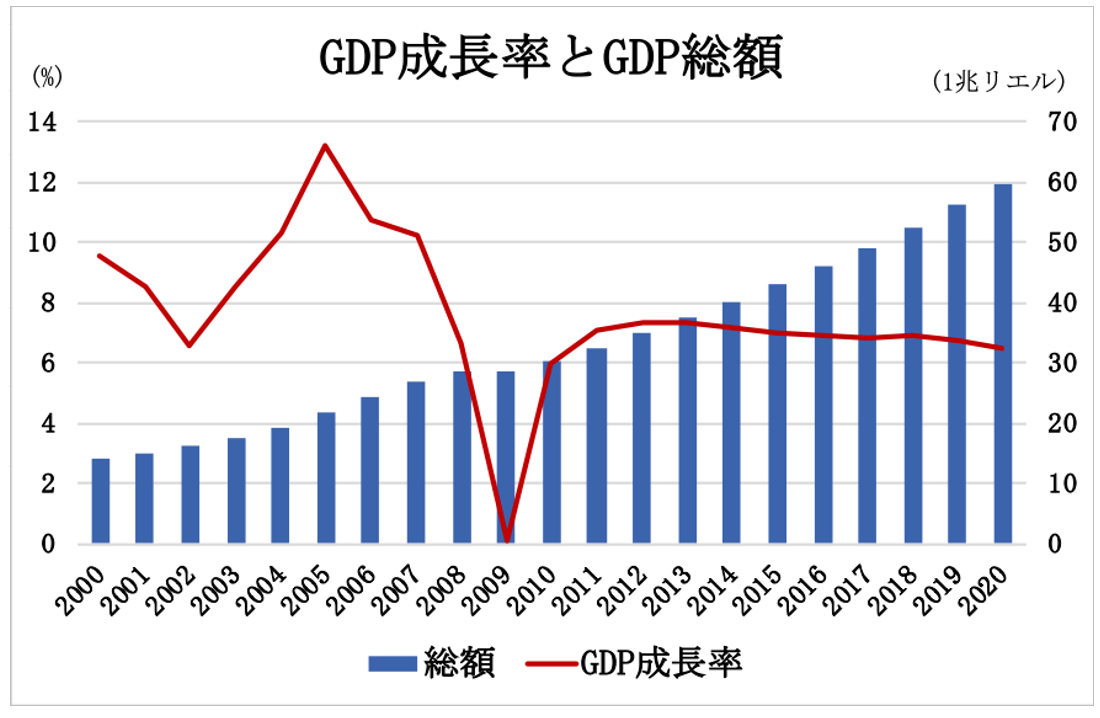 Source: International Monetary Fund, World Economic Outlook Database, October 2018
Figure 2. Cambodia Population Pyramid 2020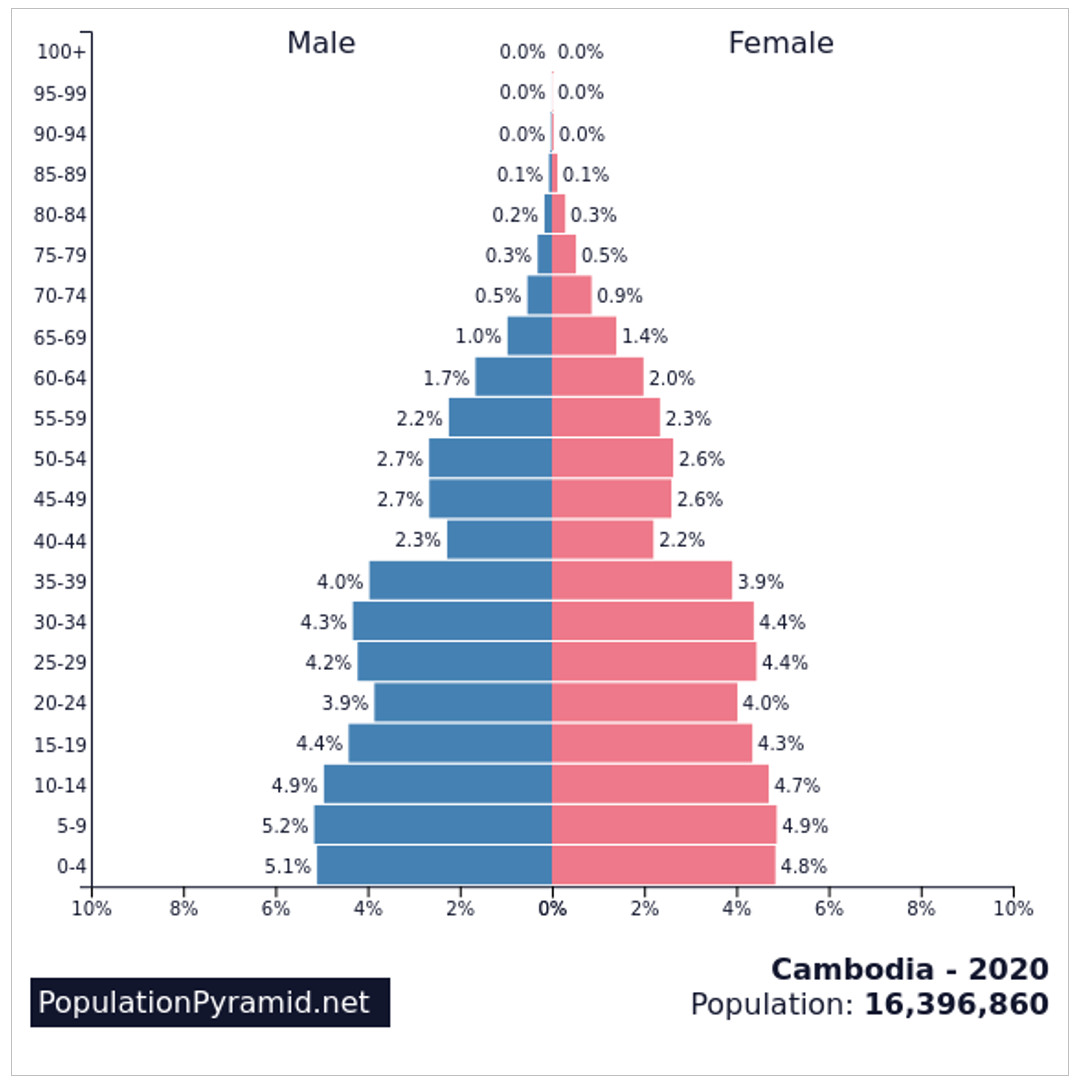 Source: Population Pyramid.net
While the Japanese construction market has been in a prolonged slump since its peak in 1992※2, the Asian market has expanded to three times the size of the Japanese market※3.
Cambodia, in particular, is a young country with an average annual economic growth rate of 7%*4 and an average age of 25 years*5, and so it has tremendous potential for growth over the next 60 years, including an increasing supply of human resources due to its expanding working-age population.
In addition, Cambodia is undergoing a transition to a new administration and is at a turning point in its quest for large-scale development.
As a comprehensive architectural and consulting firm, SHO-SEKKEI is committed to contributing to the development of the Kingdom of Cambodia by drawing on the experience and knowledge it has accumulated over the past 40 years.
※1 Hiroshima House was built in 2006 within the compound of the Wat Ounalom monastery in the Cambodian capital of Phnom Penh as a symbol of peace and friendship between Hiroshima and Cambodia. It provides free education and school lunches to children from impoverished families.
※2 & 3  Source: Ministry of Land, Infrastructure, Transport and Tourism (MLIT), Current Status And Challenges of the Construction Industry
※4 Source: International Monetary Fund, World Economic Outlook Database, October 2018
※5 Source: Population Pyramid.net
SHO-SEKKEI Phnom Penh Branch Office Opening Briefing Session & Reception
Date & Time: Friday, September 29, 2023 17:00 - 20:00
Venue: Chhay Villa, 13 St. 63 BT, Phnom Penh
Contents:Explanation about the opening of the Phnom Penh Branch Office ( SHO-SEKKEI)
◆About SHO-SEKKEI Co., Ltd  Phnom Penh Branch Office
Opening Date: October 1, 2023
Branch Name: SHO-SEKKEI Co., Ltd Phnom Penh Branch Office
Branch Manager:Yuki Ogata
Address:Hiroshima House, Onalom Pagoda, St.13, Sangkat Chey Comneas,
Khan Doun Penh, Phnom Penh, Cambodia
Business activities:
Services related to architecture, facilities, and construction for new buildings

Consulting for land, buildings, spaces, and communities

Comprehensive consulting for condominiums

Services related to architecture for existing buildings

Services related to facilities (mechanical and electrical) for existing buildings

Services related to construction and disaster prevention measures for existing buildings

Email: phnom@sho-sekkei.co.jp
◆About SHO-SEKKEI Co., Ltd  https://www.sho-sekkei.co.jp/
Company Name:SHO-SEKKEI Co., Ltd
Representative: Chief Executive Officer Yoshihiko Kifune
Address:  Suzufuku Building, 4-24-15 Sendagaya, Shibuya-ku, Tokyo 151-0051, Japan
*The Head Office functions are currently relocated due to the reconstruction of the Head Office building.
Business activities:  
Services related to architecture, facilities, and construction for new buildings

Consulting for land, buildings, spaces, and communities

Comprehensive consulting for condominiums

Services related to architecture for existing buildings

Services related to facilities (mechanical and electrical) for existing buildings

Services related to construction and disaster prevention measures for existing buildings
For inquiries regarding this matter, please contact:
Tomoko Izawa, Public Relations Office, SHO-SEKKEI Co.,Ltd
TEL: 03-5410-2525                           Email: s229642@sho-sekkei.co.jp